With various software domains and different screening dimensions a person comes across various terms. Internet testing is one of those. Totally different from typical web request screening, a website or internet progress involves you to learn the specialized stuff. As with other testing types, you've to use certain tools, depending on the kind of internet progress that you are going to test. It could be an start source software which supports you to try the web progress being made with .Net. Soap UI is one particular instruments, it may be used to test web services manufactured in ASP.net. With different methods it varies, some companies choose to make use of start resource resources in regards to Study and growth (R&D) projects; the others prefer to get registered resources for testing their specific internet development openbullet download.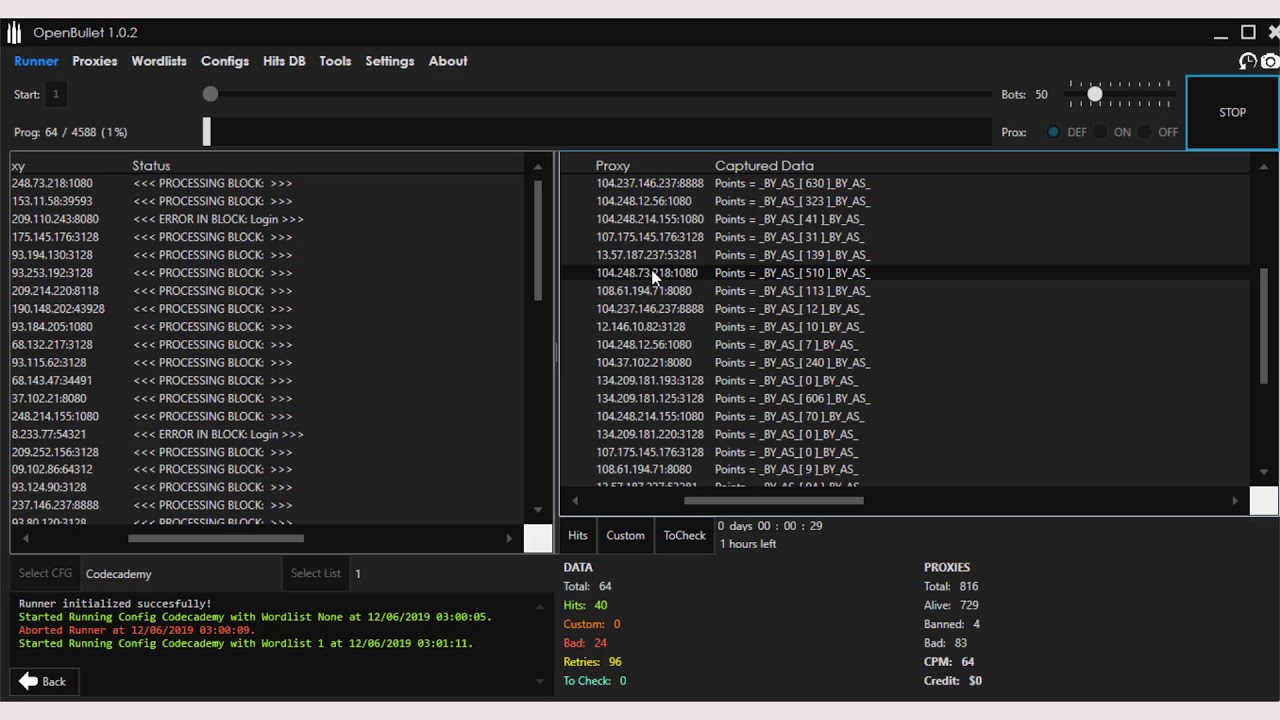 Screening a net growth requires the individual to to begin with know the tools/language in which the internet growth has been built; also anyone needs to know the reasoning behind the web support code. This way the understanding is developed. This really is different from normal internet purposes testing, as the individual has already been alert to the useful domain, the specialized stage stuff is not too important. Although it would definitely help to understand the technical details, for manual/functional testing this is simply not really required. With web service testing, this is a requirement. An individual has to understand the software otherwise it's extremely hard to try the web company effectively.
Also anyone will need to have ideas of server-side testing and client part testing. That in turn requires some knowledge of the structure which the applying has been developed in. Primarily from a software tester's point of view this all looks extra'techy'but it may be executed by anyone who has good complex level knowledge. We realize that individuals who have the'in-between'capacity, they are comfortable with some degree of application development and pc software screening, occupy internet company testing work. And in a few businesses the program developer may prefer performing the internet service testing himself as opposed to using the chance or finding the time to coach someone else to complete it.
Such testing is usually done in small to moderate range tasks which require a specific technical level of skill from their pc software testers. Even though correct that software testers are not allowed to be authorities at development and development, however in this kind of case it becomes a requirement, to learn the complex details of the task and of the respective component before beginning web service testing. Also a technical understanding from an architectural viewpoint would be required from the program specialist, as this is screening from a specialized perspective.
Before you produce your online programs live on server, it's necessary to test various problems such as for example protection of the applying, simple performance of the web site, simplicity and plenty more. Web screening computer software stands to be an supreme option to check your online applications to create it bug-free. It guarantees your internet site is functional on every browser within the Internet such that your targeted customers may accessibility the website at ease.
Several foreign internet growth organizations offer alternatives to their clients. The foreign internet developers and programmers use various technical process which can rarely be recognized by person with little specialized knowledge. They provide internet screening solutions alongside web progress companies to discover the problems linked to your online programs and help you keep the grade of your web-based software solutions.
To find out bugs at an early on point, various internet testing tools are employed by web site developers. Some of the tools are HTML Validators, Java Screening Instruments, Web Website Protection Test Resources, Log Examination Methods, Url Checkers, Fill and Performance Check Instruments etc. These tools support internet testers to track the efficiency of internet applications in multiple surfers, such as for instance Mozilla Firefox, Google Opera, Net Traveler, etc. Along with giving performance opinions of websites, you will find computerized methods that ensure that users get web program benefits in minimum time, with reduced site load time.